The most advanced measuring device in a completely standalone form. You don't need anything more than what comes in the package. Unbox it, mount it and enjoy the complete experience right away.
LAP TIMER: If you are the occasional track-day enthusiast, a semi-professional or just want to see how fast you can go around the track, we've got you covered. The "Lap Timer" functionality will allow you to measure your laps and improve your skills without ever having to stop and check your results. Read More
DRAG METER: The "Drag Meter" functionality presents you with virtually unlimited possibilities to measure all of your car's performance stats. No matter if you want to see how fast it accelerates, covers a certain distance or anything in between, you can measure it with RaceBox. Read More
STANDALONE: The RaceBox is completely standalone unit. It can be used without a smartphone connection at all. Setup your drag disciplines or even define your own tracks right on the unit itself.
PREDICTIVE: Know your results in advance with our Predictive feature. Available for both Drag Meter distance runs and Lap Timer on any track. The device will study your driving and display estimates of your lap or drag run time before you have finished. Read More
HISTORY: All of this is stored as sessions internally in the device memory - you can always go back and analyze everything later. All you need to do is just go to the "History" menu and all the information is there - sorted for you by type, date, track and sessions. No need for SD cards. Read More
And the best thing is all the functionality does not stop here. We have many more features planned in mind that thanks to the design of our hardware and software will be released as free updates down the road.
WHAT'S IN THE BOX
RaceBox comes fully ready to use - minimal assembly required.
RaceBox main unit
Adjustable suction cup for mounting on the windshield
USB-C to USB-A charging cable with quick magnetic release
External GPS antenna (in case you need one)
Complementary RaceBox stickers
Quick-start guide
A wall adapter or car charger is NOT included in the box. Feel free to use any USB 2A charger.
The main unit is compatible with Go-Pro-style mounting adapters.
FULL TECHNICAL SPECIFICATIONS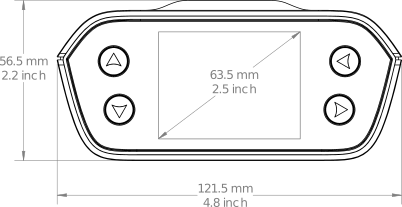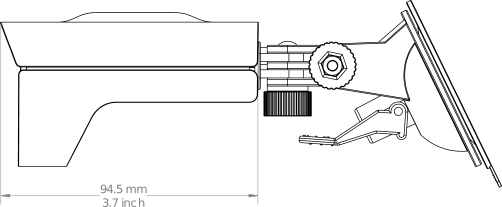 Weight (including suction cup):

 

260 grams (9.2 oz.)
Memory capacity:

 

256 drag sessions with up to 100 runs each, 128 track sessions with up to 100 laps each, 64 tracks with up to 7 configurations each, up to 5 sectors per configuration; Over 8 hours total driving time; Single track predictive mode reference lap, single drag predictive mode reference run.
Battery:

 

integrated 2500 mAh LiPo
Recommended charger:

 

2A USB Type A. Most modern smartphone chargers should work
Charging port:

 

USB Type C
Charging time:

 

less than 3 hours to 100% charged
Usage on battery:

 

up to 8 hours driving with WiFi off, 4 hours with WiFi enabled, 2 hours with WiFi enabled and constantly connected to the app
External antenna compatibility:

 

Active antenna with standard SMA connector, less than 30mA@3.3V
Mounting compatibility:

 

Should work with most Go-Pro-compatible mounting kits
GPS receiver:

 

10Hz GPS, GLONASS and SBAS, -167dBm sensitivity with built-in 35dB gain antenna
Accelerometer:

 

1kHz sampling rate with +/- 4g scale and 0.001g sensitivity
WiFi:

 

802.11 b/g/n 2.4GHz, up to 400 meters range, WPA2 encryption
Display:

 

TFT-LCD, 2.5" 320x240, full color (though we use it mostly with high-contrast black&white interface), adjustable brightness up to 300 cd/m2 and contrast of 500:1
Environmental compatibility:

 

-20 to 70°C (-4 to 158°F), minimal water protection
Our shipping policy varies by brand. Please refer to the shipping information in each product listing for more details.